Hotwire Direct™ offers well-designed and easy-to-use CNC foam cutting machines. In little time you can be designing and producing parts in the quantity you need when you need them. Our CNC machines increase your productivity and design capability allowing you to expand into larger projects and new markets.
CNC Machines are built to order.
For all our CNC hot wire products, financing is available.
Features common between the 8600 & 8700 CNC foam cutting machines
Computer
Includes monitor, printer, and all design (CAD) and machine software.
CAD program
Is easily learned and requires only basic computer skills
Open Frame Design
No obstructive corner posts for easier loading and unloading of material
Speed and Accuracy
Dynamic wire temperature and speed control maximize cutting speed and minimize burnout on fine details
Cutting Capacity
106″ x 51″ x 105″ (269cm x 130cm x 266cm) Wire is 105″ long. Ideal for 2 blocks side-by-side. Other sizes available.
Drive System
X & Y axis timing belt drives, precision sealed bearings ride on hardened ground and polished rods
Bar Code Job Scanner
You can print your drawing (job file) which includes a barcode unique to it. Take this printout to the machine, scan it and you are ready to cut the correct part. Eliminates costly production errors and time spent searching through files.
Handheld Control Pendant
Easy to use and quick to learn. Machine control is always at hand where you need it.
3-Day Installation and Training
Our technician(s) travel to your site to install the machine and teach you the software so you are productive immediately.
Options and Specifications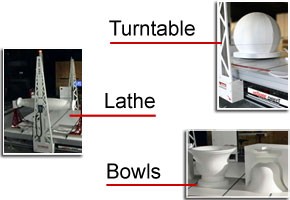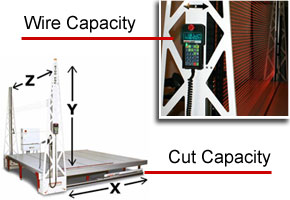 Testimonial
"I was producing trim shapes for my business needs in 2-3 hours. This is not brain surgery here, or rocket science. The installer did a very good job of explaining it to me."
- Tory Lint, Exterior Specialties
CNC Foam Product Gallery
Standard 8300, 8600 & 8700 CNC Foam Cutting Capabilities
CNC Products made with 8300, 8600 and 8700 CNC options
CNC Lathe Capabilities
Mounts to 8300, 8600 or 8700 allowing you to cut spiral columns, belly columns, etc. up to 4′ dia, 8′ long in 2Lb. foam.
CNC Turntable Capabilities
Adds the capability of cutting special turned items large or small.