6300 Glue Gun Kit
$1,600.00
Description
This glue gun comes with a 22lb. case of 420/43 glue, hard carrying case, 3 spray nozzles, heavy-duty free-standing metal stand, and extra-long 20′ cords (air + electric).
The TEC 6300 is the highest output, hand-held industrial hotmelt spray glue gun available. This is a unique, economic, spray applicator that makes hotmelt spray applications affordable for everyone. Built to a very high standard, the TEC 6300 is a totally self contained unit, requiring only compressed air and electricity to operate. There are no expensive bulk tanks or fragile heated hoses to go wrong.
Hotmelt Glue Gun Features
Hotmelt Glue Gun Specifications
VOLTAGE 110/120V. 50-60Hz (220/240 also available)
HEATER 2 x 250W stainless steel cartridges (total 500 Watts)
TEMP. CONTROL Pre-set thermostat 350F & safety thermal fuse (380F thermostat available for polyamide spray adhesive & 260F thermostat for low melt adhesive)
WEIGHT 3 lbs
POWER UP TIME 10 minutes
POWER CABLE 20 ft three core, rubber sheathed, with fitted plug + air hose, with reinforced heat resistance sheathing.
MELT RATE Up to 10 lbs/hr, depending on adhesive & temperature (average output across the range is 8 lbs/hr)
COVERAGE Between 150 sq ft and 500 sq ft per kilo, depending on whether the spray pattern has been applied heavily or lightly
ADHESIVE RELOADING Fast and safe reloading while hot
AHESIVE COMPOSITION Solvent-free and non-toxic
ADHESIVE SIZE

TECBOND

1-3/4″ cartridges
WARRANTY 1 year
QUALITY & SAFETY Designed and built to comply with international electrical safety standards (EN 60335-2-45).
Glue Gun Nozzles
Glue Patterns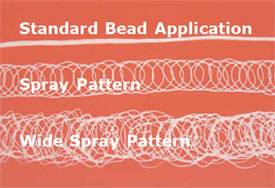 The spray pattern can be altered by air pressure and the distance you hold the gun from the substrate. The caps and valves are color-coded for identification purposes.
Additional information
| | |
| --- | --- |
| Weight | 46 lbs |
| Dimensions | 34 × 28 × 32 in |